Welcome to the Bridges On-Line Resource for Parents.
The purpose of this resource is to help parents who are supporting their child in using Assistive Technology in the areas of reading and writing.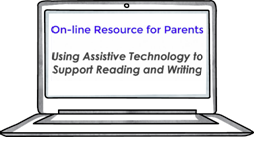 A common challenge facing many parents is how to help their children complete homework assignments, when reading and writing are such a struggle.
We know that, in order for all students to be successful, students must be able to read and write to learn about new topics in school. Often, reading is followed by writing about what they have read. Reading affects writing and writing affects reading.

It is difficult to separate reading and writing, when learning. For the purpose of this on-line resource, however, we have developed a reading module and a writing module, so that parents can understand some of the components and processes involved in each and how technology can support them.